Happy Saturday! I think we finally might be able to pool it today after a week of rain. I'm sort of glad it's been raining though because I've been held hostage all week by this sweet face...
Sweet Bella in her new bandana
She had surgery on Wednesday to remove some tumors. She has had cancer before so we keep on top of any tumors that come up. The last time she had tumors removed we ended up back at the vet four times because she kept chewing her staples and stitches out. I did NOT want to go through that again so I have to watch her like a hawk. We tried this last time..
Kinda looks like her, doesn't it?
But Bella also has seizures, bless her sweet heart. The last time I tried to put the Cone of Shame on her it triggered a seizure. And I felt like a terrible mama! So I'm not even going to try it!
The upside to all of this is that I've gotten lots of work done! I finished my supply list and parent letters. Although I found an error in my parent letter AFTER I had already printed 20 of them on my cute new paper! Grr! I guess I should just be glad that I found it before I sent them out. We are going to take a ride in a bit and get them in the mail.
I also finished my Math Journal and Scribble Pad labels. I'm going to try math journals this year. After reading everyone's blogs, I'm almost ashamed to admit I've never done them before. I'm going to start out just using spiral notebooks, but I may chuck these and try something else if I don't like them. I may end up with Cara's calendar companion.
Scribble pads are spiral notebooks that my kiddos keep in their desks to use during free time. They LOVE them! These journals are great for when you need them to be busy for just a few minutes. Like when a parent shows up at your door unannounced or the principal needs something RIGHT NOW. I am a simple sort of girl so I just stick a label on a spiral notebook for these.
Here's a pic: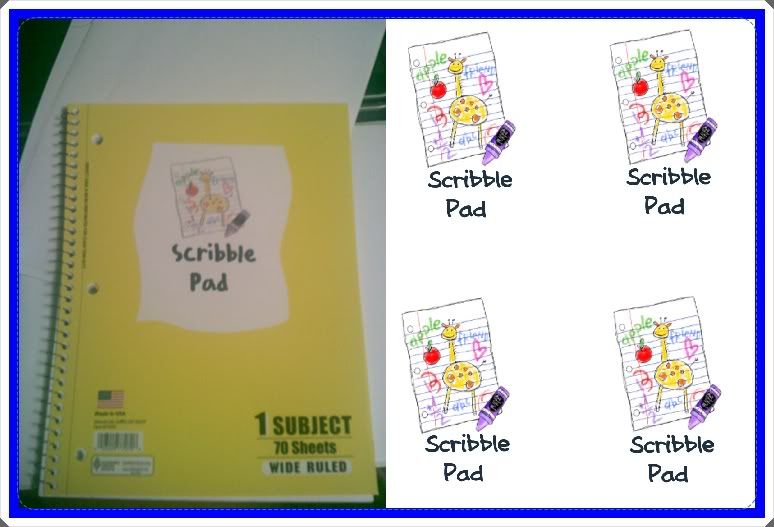 I just print on Avery labels (4 to a page), cut, trim, and stick! Super easy! I always cut in curvy lines because I couldn't cut a straight line to save my life! I didn't upload the labels to Google docs because no one may want them. But if you do, just email me and I'll send them to you!
Here is the math journal label. Super simple..not a lot of frills! Also printed on Avery labels. If you want these, just email me.
Okay, must go get presentable for the post office. Single girls must be ready at all times, lol!