Get Ready for Bloggy Olympics!!!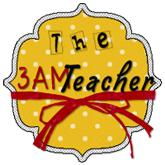 Join The 3AM Teacher, the Reading Olympians, and over 80 SUPREME education bloggers as we take you through a tour of the Reading Olympians Root Study Program!!
********************************************
Hi everyone! I'm so happy that you are here visiting me on my blog!
Wow, what a week! It was so hard to come back after spring break.
I'm so thrilled to be joining lots of fabulous bloggers in the Pass the Torch Linky. I was worried that I wouldn't be able to get everything done in time to actually show you anything! As I said, we were on break last week and this week was CRAZY. The bad part about living in Tennessee is that on an early spring day, the temperature might start out at 32 but end up at 70. It makes us all a little bonkers!
I was so excited to see this program and how it would relate to my firsties. Krista and Julie (the Reading Olympians) have done such a wonderful job creating this study. I'm very impressed with how it is broken down for the teacher. It is completely teacher-friendly!
First I showed my kids the book from the Reading Olympians program to introduce the concepts. I gave them a little history about Greece and told them some of the names of the god and goddesses to go along with the book. I couldn't help it! Michelle's graphics are so great!
I have always been interested in Greek mythology (that's the inspiration for the Athena in my email and Blogger id). I actually went to Greece in 2005 and it was a-maz-ing! I shared some legends about the gods and goddesses but honestly wish I hadn't. Because as we went through the book on the screen, they wanted to know who each character was! And to tell me which one THEY were. It got
us waaaay off track. Ack! Live and learn!
My sweeties were fascinated with the clip art from the 3am Teacher!
Okay, back on track...
I decided to focus on just suffixes -s, -er, and -ed for now. I will definitely use the entire program over time (and beginning earlier next year). In the program there are great visuals that really allowed us to not only talk about what suffixes do but also what they MEAN. They caught on right away and were coming up with words of their own. Makes a teacher's heart sing!
I like to tie any concepts that I teach to kid literature when possible so I used the book Happy Endings. I bought the book from Scholastic for a reasonable price. It's over 18 dollars on Amazon! It is a great book to really help the kids take note of the suffixes and how important they are in words.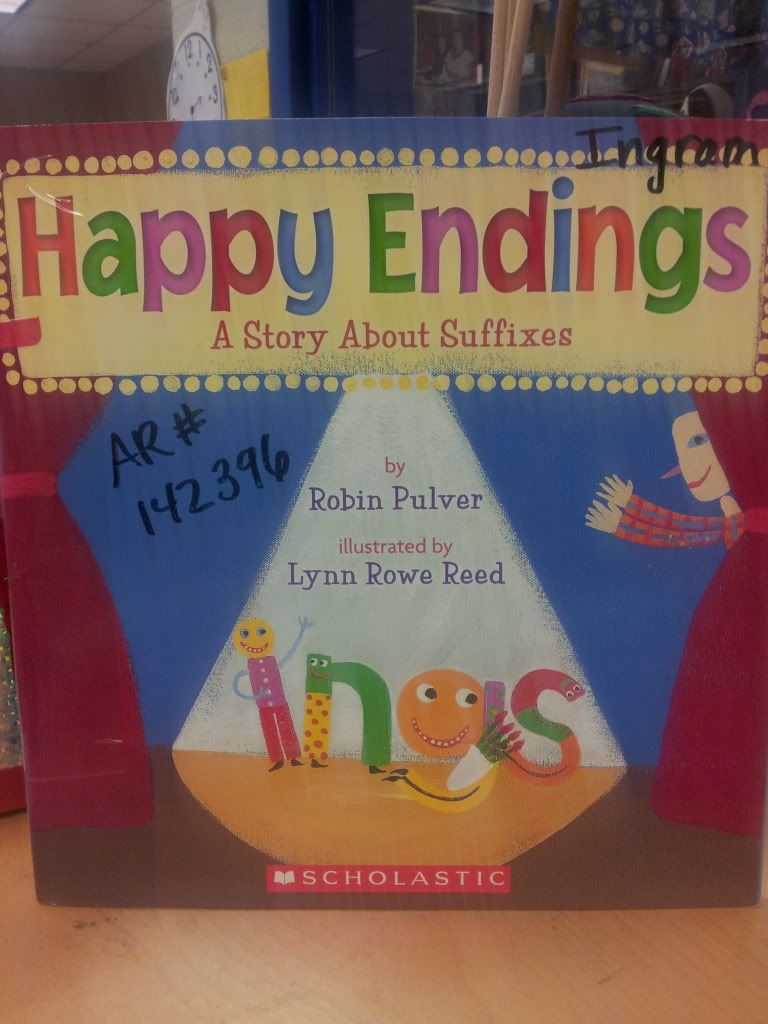 We did a quick visual to show how the word changes with the new suffix. I took pictures...I know I did! But somehow they didn't end up in my Photobucket. Technology..grr!!
Anyhooo, I chose the words jump and play and made large cards with them. Then I made cards with s, er, and ed. We had jump stay in one place and the kids with s, er, and ed took turns moving in behind jump so they could make the connection that only the ending changed! We repeated with the word play. I heard some ahhs by the time we were finished. Yay!
I also threw together a quick practice activity for -s, -er, and -ed. I had these printed intending small groups to do them, but time was not on our side today. We did them whole group instead with me showing the words and the kids telling me in which category to put the word. They completed the recording sheet as we went along. I will change the words this weekend and let them practice in small groups with new words.
The words in front of me.. I really need to clean that board!
Words on the screen. Can you tell I LOVE my Promethean board?
Click on the picture to snag it.
Graphics by Creative Clips (Krista Wallden)
I just love first graders! We had free AR time after these lessons and they drove me crazy showing me the suffixes in their books! Haha!
But I am so excited by this honestly because I can really see the power of being suffix detectives! I can't wait to see the impact in their writing!
I hope you got a little something while you were here and come back and visit me sometime.
Enjoy the rest of the linky!
Discover the program IN ACTION in more K-6th grade classrooms as you Pass the Torch!! Get ideas, discover the progression of the program, and enter the Raffle for a chance to win ONE of the three prizes listed below!!
First Place Winner : Gold Medal
Prizes: Complete Reading Olympians Program
$50.00 Amazon Gift Card
50% off Discount Code for a 1-Day shopping spree at The 3AM Teacher's Etsy store!
Second Place Winner: Silver Medal
Prizes: $25.00 Amazon Gift Card
40% off Discount Code for a 1-Day shopping spree at The 3AM Teacher's Etsy store!
Third Place Winner: Bronze Medal
Prizes: 30% off Discount Code for a 1-Day shopping spree at The 3AM Teacher's Etsy store!
Pass the Torch!!!
Click the image below to visit the next blog
Kindergarten:
Grade 1 & 2
Grade 3 & 4
Grade 5 & 6
a Rafflecopter giveaway